Thank you Jan Hoffman and Carnegie Mellon University.  Well, thank you and shame on you at the same time.  In the New York Times yesterday, Jan Hoffman wrote on a Carnegie Mellon study looking at effects on children's learning and concentration of the heavily adorned classroom walls that are the staple of traditional elementary schools throughout the USA.
Not surprising to any Montessorian, the study found that children performed better in rooms with relatively unadorned walls.  They noted that the proliferation of posters and borders and commercial materials, presumably designed to be cheery and inspirational, actually may be a distraction, making it harder for young children to listen to a story or absorb presentations. Many teachers in traditional school systems feel indirect or even direct pressure to 'decorate' their classrooms to fit a bright image corresponding to adult fantasies of early childhood.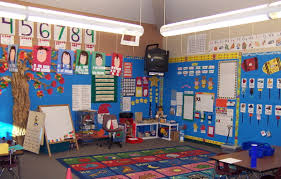 Forgive me for wanting to say "of course."  Authentic Montessori and Waldorf classrooms have always eschewed commercially created 'teaching aids' cluttering up the walls.  They opt for natural materials and serene, aesthetically pleasing spaces.  With any luck, perhaps some traditional schools will adopt this methodology.
Dr Patricia Tarr has researched and written on this topic (Consider the Walls), urging teachers to be more judicious about wall decorations.  She recommends reducing commercially prepared materials and featuring children's own works. Dr Tarr's work suggests teachers think more critically about the cultural and commercial messages sent by the proliferation of apples and little red school houses and cartoon style yellow school busses.
And the 'shame on you' part? While I love studies endorsing the the simple, uncluttered classroom, I shudder to acknowledge that the motivation is undoubtedly to produce better test scores and more driven, fact-focussed learning in five year-olds.  No mention of that in the article.  Or that kindergarteners would do well with lots of time in a natural setting, preferably outdoors.
Consider: